Meat restaurant
(steakhouse) El Gaucho
The oldest steak-restaurant in Moscow. We were the first, 20 years ago, to offer real steaks in Moscow - Tender, juicy and right out of the grill - just like they are eaten in Argentina.
Steaks in El Gaucho are cooked on an open fire: an Argentinian grill Parilla is right in the hall. And how the main heroe can be hidden in the kitchen! Taste from a steak cooked on charcoal will be different from the usual josper oven, like a juicy shashlik and meat from a frying pan.
Chef Igor
Dovgelya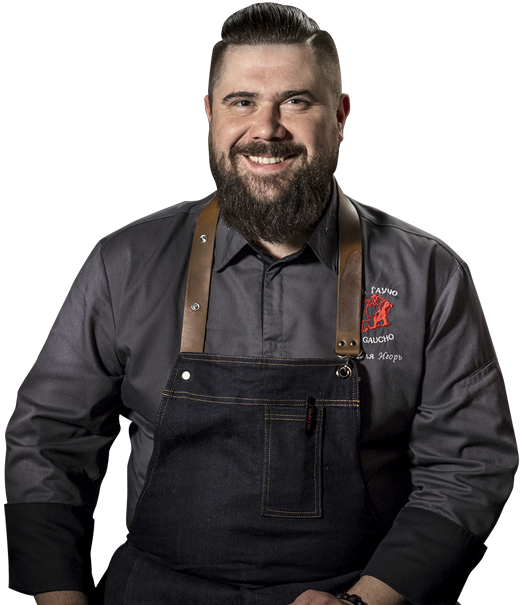 Chef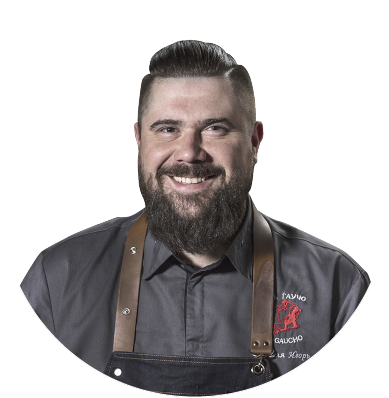 Igor
Dovgelya
Serving is the individual pride of the restaurant team. Steaks in El Gaucho are served on a steel stove: they were ordered from Argentina. At the bottom are hot coals - so that the meat reaches the right condition right here on your table. That all is accompanied by special spicy or classic sauce chimichurri made of parsley, olive oil and garlic, served on wooden plate. Also by cabbage with pineapple for contrast to intensify the rich taste of the meat and to enjoy each piece of meat as the first one.»
Meat

Desserts

Fish and seafood

Soups

Snacks

Side dishes
Premium quality
Prime Beef
That is the first step of a delicious Argentinian plate. After the process of ageing meat is getting softer and tender. The chef cuts the meat in a special way and leaves it in a refrigerator for 20 days at a temperature from 0 to 4 degrees at high humidity. After that fermentation all fibers are taken away, the extra humidity is evaporated thus the taste of meat is authentic with no exorbitant marinade. At "El Gaucho" you can taste the beef of 21, 60 or even 120 days ageing. It definitely worth it! Recently we have started to offer the steak ribeye marinated 90 days with Bourbon.
Book a table
"El Gaucho" is one of the most popular restaurants in Moscow that is why we suggest to book a table even at lunchtime to enjoy the taste of favourite dishes and spending a nice time.
By phone
By form